Private Robert T. Bedwell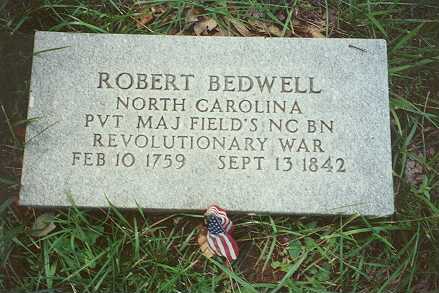 Revolutionary War Service from North Carolina
While a resident of Rowan County, NC, Robert Bedwell enlisted in May 1780, served four months as private in Captain Snoddy's Company, Major Fields North Carolina Battalion and was in the battles of Hanging Rock and Camden.
He enlisted November 1, 1780 and served three months in Captain Smith's North Carolina Company.
He enlisted in August 1781 and served two and one half months as a private in Captain Lopp's North Carolina Company.
He was allowed pension on his application executed August 13, 1832 while a resident of Sullivan County, Indiana. His Revolutionary War pension claim is number S. I6321. (DAR record copy 296311)
PDF of Federal Pension Packet from the National Archives
Robert Bedwell fought with Daniel Boone in Fort Boonesborough, KY against Indians. One of pioneers in Fort Vincennes, IN when the peace treaty was signed by the Indians. Purchased and entered section of land in Jefferson Township, Sullivan, IN (Genealogist notes DAR record copy 296311)
My Lineage
Private Robert T. Bedwell
John Bedwell
Squire Jordan Bedwell
Mary Tabitha Bedwell
Claude C. Bedwell
Retha Eugena Bedwell
Anna Marie Matthews R.N.
Jacqueline Sue Martin
Captain Kevin Lee Waldroup